Happy Friday Morning All!
With the pressures and stress that can come with being an adult, it is nice to think back to a time when things were simpler…and what better way to do it but with childhood cartoons?  I've put together some fabrics from some of my favourite cartoons from my childhood. I'm talking Care Bears, Fraggle Rock, He-Man/She-Ra…totally amazing. I guess these would be considered "vintage" now, but I'm not ready to accept that quite yet. Even if you didn't grow up on these cartoons, I hope this post makes you just nostalgic for a more carefree time in your life.
The always loveable Care Bears ….this one was found at the etsy store called Witsister via. Does anyone else have the urge to yell "Care Bears…Staaaaare" right now? OK, maybe just me….
Look at this fabric with Pez Dispensers! so cute…. via
Who didn't love Archie??  A-mazing.   This one was found at the etsy store called junquete via.
Peanuts!  via
He-Man and She-Ra, maybe the only 2 cartoons my brother and I would agree to watch together!  I found this fabric on a very cool blog dedicated to vintage baby and retro child called Albert and the Lion. via
Jem was my afterschool staple for television. I couldn't find actual printed fabric, but you can't tell me this Jem sleeping bag is not truly truly, truly outrageous…. via
Aww, how sweet is this Strawberry Shortcake fabric?  Photo taken by Amber Renee Amick via
I spent many Sunday nights hanging out with my friends in Fraggle Rock via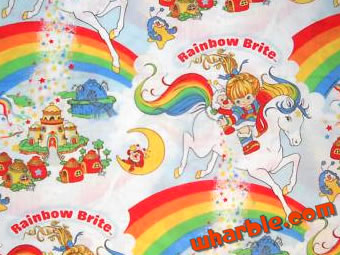 I loved Rainbow Bright! via….actually apparently I still do as demonstrated in the next photo!
photo taken by Sarah from reDesigning Sarah
Yea, its the weekend!