Good Morning!
I have landed, caught up on my sleep and and I'm excited to start sharing my Swiss adventures with you! Zurich was my home base during my trip.  Specifically, the home of my fabulous friend A and her hubs.  I couldn't have asked for more generous hosts.  For realsies. They literally MADE my trip. It was so incredibly kind of them to have me and I'm very grateful. Sending them buckets and buckets of thanks and love for all they did.  I spent a day and half exploring Zurich and really enjoyed it. It's a very clean, very organized city which, as a tourist, is appreciated. It is a smaller city, but due to the high volume of high end business travelers, it has all the amenities you would want and more.  And it's very picturesque, especially after a snowfall.
Yep, oodles of pretty.  Oh wait, more pretty…
The last photo in this collage is the steeple of the church in which A and her hubs were married in July. Oh ya, and their reception was in a castle.  She HATES it when I say that (which makes me say it more).  It was actually held at the Dolder Grand Hotel but you tell me this does not look like a castle to you…
'nuff said.
I traveled around using the Zurich and Swiss train stations.  As is usual with European cities, their transit system is SO much better than cities here in Canada. My friends live in Horgan, a suburb about 20 mins outside of Zurich's downtown core, but it seems much closer because everything is so much more efficient there.  Sure I had some problems with it (mostly of my own errors), but overall a pretty great way to get around.  Below is a picture of Zurich's Hauptbahnhof or Central station, as well as my home "home" station of Horgen Oberdorf.
And here are more shots of Zurich…
Normally, I don't have pictures of myself in travel posts, mostly because I am usually on my own so I don't have anyone to take photos with me in them.  I took advantage of having A with me to get at least one pic that proves I actually was in Zurich.
We also spent a couple of hours at the Kunsthaus Zurich, where I discovered a Swiss artist whose work I love.  Mr. Giovanni Giacometti.

Yes, this gruff looking SOB created some very lovely art.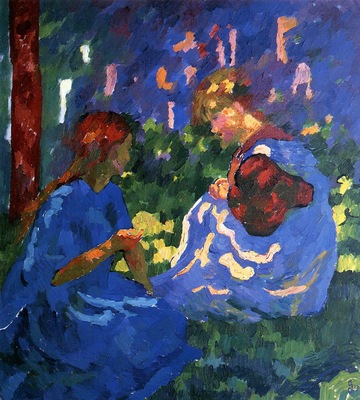 Love his stuff.  And I love discovering new art.  Now I just need more wall space in my place so I can get some of his prints.
And that's my overview of Zurich, though more Zurich will come up in my other trip posts!
Have a great Monday!
XO,