Good Morning!
I'm a bit groggy this morning after the Interior Design Show opening party last night but after seeing only a few booths at the party, I'm excited to go back on the weekend to really explore.  And on the topic of design today I have the second installment of the Masters of Furniture series featuring French furniture designer Charlotte Perriand, a pioneer in machine age furniture.
Image by Knowtex via Flickr CC
Born in 1903, Perriand divided her childhood between Paris, where her father worked as a tailor and her mother as an haute couture seamstress, and her grandparents' home in the mountainous rural region of Savoie. She studied furniture design at l'Union Centrale des Arts Décoratifs from 1920 to 1925. Frustrated by the craft-based approach and Beaux-Arts style championed by the school, Perriand searched for inspiration in the machine aesthetic of the motor cars and bicycles she saw on the Paris streets.
She started her career at Le Corbusier's studio in 1927, but almost wasn't hired after being initially (and now famously) rejected by him with the reply of "We don't embroider cushions here".  However, she eventually convinced him to hire her after his partner, Pierre Jeanneret made him go see her exhibit at the Salon d'Automne.
Bar sure la Toit "Bar sous le toit",
In 1928 she designed three chairs with Corbusier.  One chair was made for conversation (the B301 sling back chair) another for relaxation (the LC2 Grand Comfort chair), and the last for sleeping (the B306 chaise longue).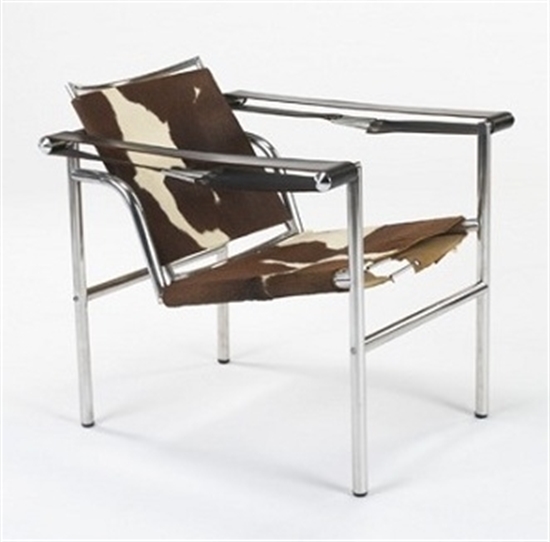 Photo via Foundation Le Corbusier c/o Cassina
In 1937 Charlotte left Le Corbusier's studio to collaborate with the artist Fernand Leger on a pavilion for the Paris Exhibition and to work on a ski resort in Savoie.  Then after the war she returned to Paris to design prefabricated buildings with Jean Prouvé and Pierre Jeanneret.  Over the years she continued designing buildings and interiors working on League of Nations building for the United Nations in Geneva, the design of the French Tourist Office on London's Piccadilly (in collaboration with Erno Goldfinger) and worked with Le Corbursier and achtiect Lucio Costa on the interior of their Maison du Brésil at Cité Universitaire in Paris.  However, throughout her career she continued to design great pieces of furniture.
 Photo via Gallerie Patrick Seguin
And that my friends, is Charlotte Perriand. Such a long and amazing career. And considering she started in the 1920's, which was not exactly an era where woman were pushing boundaries, speaks even more to her talent and ambition.  You can still buy her furniture at Cassina.  I am having a great time learning the stories behind these masters of furniture.  If you missed my first  post in the series on Milo Baughman, you should check it out!
XO,