Good Evening!
Better late than never on my post, right?  However, I do have some good news.  My kitchen/dining table project is pretty much finished! It's only taken me 5 months to get around to starting it and actually get it done, no biggie.  I'm not sharing the whole process today but I will share a little.  As you may recall from this post, I got the table at the Christie Antique Show in September and it looked like this:
And here is a little peek of what it looks like now (sorry for the photo quality, quick phone shot):
Of course my next job is to get it set up with some chairs.  There are a lot of dining chairs that I like, the selection out there is pretty great. However, I have some limitations. My eating area is quite small, and so is my table (just about 40″ wide) so scale is a factor. Huge chairs will look pretty freakish. And the the table is a gate-leg which means there is limited space under it to push in the chairs, so they can't be very wide either. I originally thought I only wanted chairs with some sort of upholstery (shocking, I'm an upholsterer).  But there definitely are less upholstered chairs that fit my criteria.  Then in my research for my Masters of Furniture series I discovered the my first chair option:  The wishbone chair, originally designed by famed mid-century furniture designer Hans Wegner.  You will be learning more about him in another Masters of Furniture Series soon but here is basic model of the chair.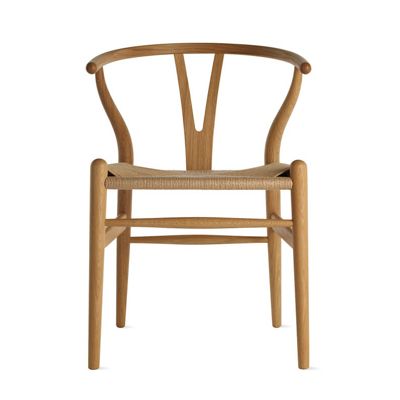 The design is beautiful, simple and in terms of size and shape, it will work perfectly for my table/dining area.
Image Source: via Yaeda
Image: Home of Jonas Ingerstedt via Blackbird.
You also can get it in so many gorgeous colour combinations.  I like these two as potential for my kitchen but there are lots of others.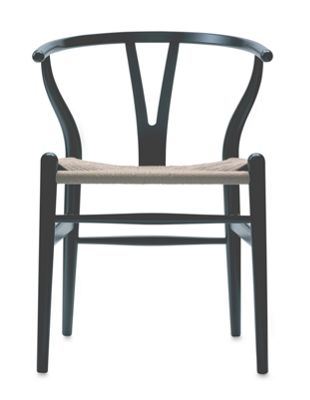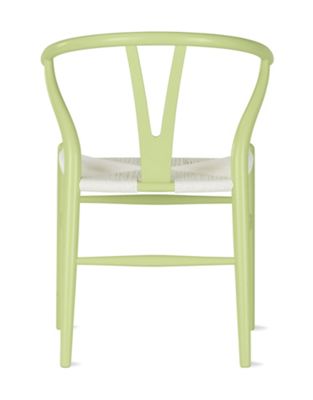 Photos from Design Within Reach
Two things that I'm concerned about with this chair:
1)  That they won't be comfortable.  I do like a bit of cushiness in the seat on my dining chairs and I fear they would be hard on my booty (although my booty is much cushier on it's own since the holidays…).
2)  I usually like to buy originals when I can (as opposed to knock-offs/replicas)…but at a whopping $800 PER chair, that isn't going to happen with these.  There are a ton of good replicas out there at very reasonable prices, so that is certainly what I will do if I go with these.
Despite these two issues, I think from a conceptual/design perspective, this type of chair would work perfectly.  I'm still on the hunt for more options but I think this will be a solid contender.
Do any of you have a version of the wishbone (or ever sat in one)?  Are they comfortable?
XO,