Good Morning!
It's just another manic Monday (oooo eee oooo)….and today is going to be particularly manic because I'm on vacation starting tomorrow, and as usual, I've left a number of things to the last minute.  Soooo, there will some running around today but then….ahhh….relaxing. Can't wait.  But back to today…..and a few of Last Week's Loves…
Check out these delicious looking strawberry tarts that Heather over at Interior Groupie made and posted about last week. However….as good as these look, the best part of the post was her tip about how to get these guys out of the pan without the strawberry juice going everywhere!  Check it out. Genius.
If I were a kid, this DIY backyard playhouse from the handmade home that I found over at Brooklyn Limestone, would be amazing….hell, I kinda want it now. The first Recreated headquarters may just look a little like this…..ok, maybe a bit bigger….
I am soooo totally doing this mini fabric lampshade project that I found on Poppytalk. Who has a lot of extra fabric scraps?  Um, an upholsterer, that's who. So happy to have a project to use some of it up!
The lovely Nancy over at Marcus Design posted about Leaf Medallion wallpaper, and I really liked this one called Lotus by Galbraith & Paul… pretty.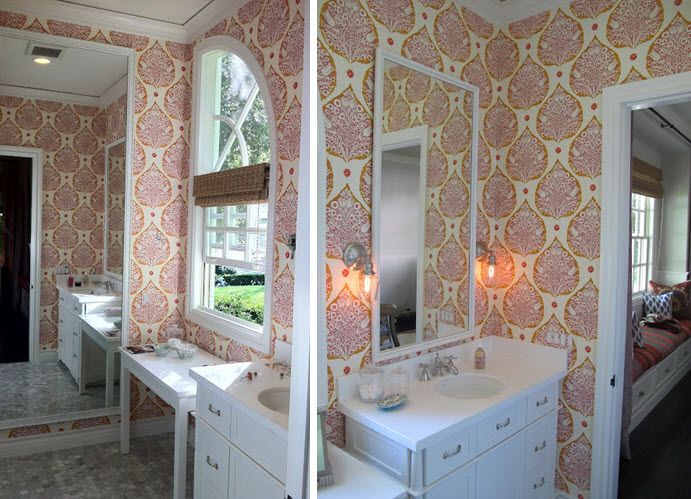 And lastly, I loved this bather by Emmanuela Swimwear, a Greek swimwear company, that was featured by A Diary of Lovely this week.  That little frill on the bottom is Ah-dorbs.
I'll be back tomorrow, but after that I'll be enjoying the ocean air at my family cottage in New Brunswick for the week.  But don't worry, I've got some lovely ladies who will be here to entertain you in my absence.
XO,