Good Morning!
Since was talking about the Eames molded plastic chair in my last post, I thought it seemed appropriate to have Charles and Ray Eames as the subject of today's Masters of Furniture post.
So I'm a little embarrassed. Although I know their designs very well it was only this week that I discovered that Charles and Ray Eames are in fact a husband and WIFE team, not two brothers. Ray is woman. Perhaps everyone else knew that already, but I had no clue.  But I suppose this is why I've been posting this series, to learn more about these designers.
photo by Christian Newton via Flickr CC
Charles Eames, Jr was born in St. Louis, Missouri. Charles studied architecture for two years at Washington University in St. Louis on an architecture scholarship. and then left the university. Many sources claim that he was dismissed for his advocacy of Frank Lloyd Wright and his interest in modern architects. However, less publicized sources indicate he left because couldn't balance his studies with his part-time work at a local architecture firm.While at Washington University, he met his first wife, Catherine Woermann, whom he married in 1929. They divorced in 1941.  They had one daughter.  Charles worked in his own architecture firm in St. Louis until Finnish architect Eliel Saarinen (one of his great idols) invited to further study architecture at the Cranbrook Academy of Art.  He became a teacher there and later the head of the industrial design department.
Ray Kaiser, born in California, graduated from Bennett Women's College in Millbrook, New York, and then moved to New York City, where she studied abstract expressionist painting with Hans Hofmann.  In 1940, she began studies at the Cranbrook Academy of Art.  That is where magic began!
Charles had became close friends with Eliel's son Eero Saarinen and together they designed prize-winning furniture for New York's Museum of Modern Art "Organic Design in Home Furnishings" competition. Their work displayed the new technique of wood moulding.  Ray was working on design drawings for the competition.  Charles and Ray married a year later to Los Angeles where they would continue designing furniture.
I've highlighted some of their most famous and influential designs below which are still in production to this day by Herman Miller.  You will recognize most of these pieces, in particular the iconic Eames lounge chair and ottoman.
670 Lounge Chair, 1958
Aluminum Group Tilt Swivel, 1958
Dining Sideshell Wire Wood base  or DSW, 1954
Dining Chair Wood or DCW, 1948
Dining Armchair Wood or the DAW, AKA the shell chair, 1954
All product photo above from Herman Miller
They also designed some toys using molded wood, like the Eames Elephant!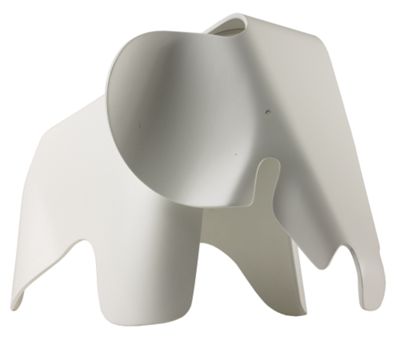 Photo Source Design Within Reach
Outside of furniture design they were still involved in architecture projects. Most notably, Charles and Ray designed and built the Eames House, as part of Arts & Architecture magazine's "Case Study" program.  Case Study House #8 was hand-constructed in a matter of days out of entirely prefabricated steel parts and it is considered to be a milestone of modern architecture to this day.
The couple also were involved in other creative ventures over the years such as films and textile design. Charles Eames died in 1978 and Ray died 10 years later. You can read much more on the Eames and their designs here.
Even if modern mid-century style pieces aren't your go-to design style, I think most people can certainly appreciate how much the Eames designs have influenced today's modern furniture design.  You can see my two previous Masters of Furniture Posts, here and here.
Have a great weekend!
xo,